Home --> Christina Holt's Story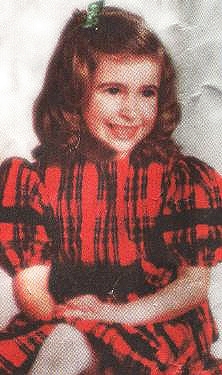 Christina Holt's Story

She was a tiny child with little brown ringlets framing a smiling face. It is the only photo we have ever seen of her and most likely ever will. It is the portrait of how she should have stayed: happy, carefree. She world have been 21 in May, 2008. It is hard to believe that little Christina Holt had her life snuffed out by her pregnant mother (who stood idly by and watched) and her cold, heartless stepfather (who beat her to death). They kept her dead body in a closet for weeks, and then buried her miles away from their house and claimed that she had been kidnapped from a flea market in Fort Lauderdale.
On the "newspaper articles" page is her complete story, as it appeared in the South Florida media.
Official Obituaries Having To Do With The Case:

CHRISTINA DIANE HOLT
Washington Times, The (DC) - December 2, 1994
Deceased Name: Poolesville funeral set for Christina D. Holt, 7
Services have been set for Christina Diane Holt, 7, formerly of Poolesville, who was found beaten to death in South Florida Oct. 27.
Her funeral will be at 11 a.m. tomorrow at the Memorial United Methodist Church, 17821 Elgin Road in Poolesville. Interment will follow at Parklawn Memorial Park in Rockville.
In lieu of flowers, the family asks that memorial contributions be made in Christina's name to the Adam Walsh Center, 9176 Alternate A1A, Suite 100, Lake Park, Fla. 33403.
Her mother, Pauline Zile, and stepfather, Walter John Zile, are both charged with her murder. Christina was beaten to death in mid-September, according to the couple, and police were led to her body by Mr. Zile.
Before moving to Florida, Christina lived with her grandmother, Judy Holt, in Poolesville.