Home --> AJ's Story --> AJ's Story: Newspaper Articles --> 1994 Page 1
A.J.'s Story - Newspaper Articles

The following links take you to various articles in AJ's story as it appeared in the South Florida media.
PLEASE DO NOT COPY THE INFORMATION ON THIS SITE BEFORE ASKING.
Thank you!
In Loving Memory Of

Andrew James "A.J." Schwarz

April 24,1983 - May 2,1993

"Beautiful Child who has found love from the angels...RIP..."

This page contains articles from the Palm Beach Post and The Sun-Sentinel from the year 1994.
If you are interested in reading the FULL DETAILS of this case aside from what is posted here, please purchase "No One Can Hurt Him Anymore" by Carol J.Rothgeb and Scott H. Cupp. Mr. Cupp thinks it's the book that nobody will read...please show your support and show him that you care about AJ, too by ordering his book by clicking on the cover image below.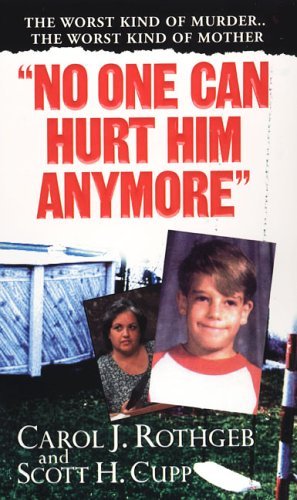 ---
Homicide Tally Climbs for First Time in 3 Years (1/1/94)
In Court (1/20/94)
In Court (2/9/94)
Mom May Face More Abuse Charges (3/18/94)
In Court (3/18/94)
HRS Worker Challenges Indictment (3/22/94)
In Court (4/13/94)
Bail of Slaying Suspect Revoked -- Judge: Accused Killer of Stepson Violated Pre-Trial Release Rules (4/14/94)
AJ Schwarz's Stepmother Back in Jail For Shouting at Witnesses (4/14/94)
In Court (7/6/94)
HOMICIDE TALLY CLIMBS FOR FIRST TIME IN THREE YEARS
Palm Beach Post, The (FL)
January 1, 1994
JAN LINDSEY, Palm Beach Post Staff Writer

When Palm Beach County sheriff's Sgt. James ``Rocky'' Hunt was gunned down in suburban Lantana in February, his name became the 15th entry on the medical examiner's 1993 list of homicides.
The tally reached 92 before the year was over. It was the first time in three years that the number of homicides climbed.
Boca Raton police say they broke a record with seven homicides in 1993. The previous high was six in 1980.
Countywide, officials counted nine more homicides in 1993 than in 1992. In 1991 there were 86, in 1990 there were 91, and in 1989 there were 109.
Hunt's death was one of the most notorious killings of the year. He was shot in the eye on Feb. 25 after he stopped four teenagers for questioning at Lantana and Jog roads, where a silent bank alarm was going off. Four youths were arrested during a manhunt that lasted nearly until dawn.
Nicholas Hardy, 18, was found shot in the head near where Hunt fell. Hunt's gun lay nearby.
Hardy survived the self-inflicted wound and was charged with first-degree murder. A judge last month ordered him to a program for mentally retarded defendants at the Florida State Hospital in Chattahoochee. He may yet stand trial in Hunt's death.
The medical examiner's office listed 15-year-old Heather Hussey as the year's youngest homicide victim.
Backyard drowning victim Andrew ``A.J.'' Schwarz was younger, but Palm Beach County Medical Examiner Dr. James Benz could not determine whether his death was a homicide and never added him to the list.
The 10-year-old's bruised and naked body was found floating in a pool behind his suburban Lantana home in May.
His stepmother was arrested in October after an assistant state attorney asked a medical examiner from Georgia, a specialist in pediatric pathology, to review the complicated case. He said the boy was murdered.
Jessica Schwarz was indicted on charges of second-degree murder and witness tampering and four counts of aggravated child abuse and two counts of felony child abuse.
Jason Kendall, 19, has been charged with manslaughter in Hussey's Jan. 23 death.
Deputies say Kendall left work and went to Hussey's suburban West Palm Beach home. There, they say, Kendall fired a .22-caliber pistol several times outside the house and then went inside and shot Hussey once in the head. It was just after midnight Jan. 23, and Hussey died within an hour at St. Mary's Hospital.
Kendall said the gun discharged when someone else dropped it.
The year's oldest Palm Beach County homicide victim was Evelyn Fountain, 87, of Delray Beach who was shot in the forehead July 27 by her husband, James Fountain Sr., 78. Fountain also killed himself. The Fountains had been ill.
They had been married 46 years.
* Staff writer Jounice Nealy contributed to this report.

Back To Top

IN COURT
The Palm Beach Post
January 20, 1994

KILLING SUSPECT WANTS HAIR DONE: A woman accused of killing her 10-year-old stepson after months of abuse asked a judge Wednesday to allow her to visit her hairdresser. Circuit Judge Walter Colbath had ordered Jessica Schwarz confined to her home while she awaits trial. Colbath indicated Wednesday he would modify his order to allow Schwarz to have her hair done once she specifies when and where.

Back To Top

IN COURT
The Palm Beach Post
February 9, 1994

WEST PALM BEACH
An attorney representing a state health worker indicted on extortion charges in the death of 10-year-old Andrew `A.J.' Schwarz has filed a motion to be removed from the case. Attorney Nelson Bailey says in his motion that the state Department of Health and Rehabilitative Services hired him to represent investigator Barbara Black through her arraignment, but that HRS said it would not retain Bailey after Black's arraignment. The motion also said Black has not hired or paid Bailey.

Back To Top

MOM MAY FACE MORE ABUSE CHARGES
Sun-Sentinel
March 18, 1994
STEPHANIE SMITH
Staff Writer

Schwarz Additional child abuse charges may be filed in the case of a woman accused of forcing her stepson to sit outside naked, eat his meals on the floor next to a cat litter box and ultimately killing him.
Assistant State Attorney Scott Cupp said in a hearing on Thursday that new allegations of physical abuse will be raised in the case of Jessica Schwarz, either in more charges or as evidence in her trial on previous charges of aggravated child abuse.
Cupp declined to elaborate, but autopsy results for A.J. Schwarz, 10, showed his body was covered by more than two dozen bruises and cuts. The pending charges of child abuse against Schwarz, 39, only covers psychological torture, such as the child being forced to wear a T-shirt that read "I'm a worthless piece of ---Don't talk to me," and being kept home from school as punishment.
Court records reveal other bizarre details of the boy's life. A neighbor, Ronald Pincus, said he saw the boy walking Schwarz's family dog at 1:30 a.m. on May 2, which is the day he died.
And, just weeks before his body was found floating naked in the family's above-ground swimming pool west of Lantana, neighbors say they heard Schwarz tell the boy he had a new name - Jeffrey Dahmer. Dahmer is a Milwaukee serial killer and cannibal.
Schwarz will be tried separately on the charges of abusing her stepson and killing him.
On Thursday, Schwarz's attorney, Rendell Brown, successfully argued there is no evidence linking Schwarz to her stepson's drowning, and the allegations that she abused him before his death cannot be used to show she caused him to die.
But Brown was unsuccessful in getting thrown out as evidence a videotape that shows Schwarz grabbing her daughter and telling the child to be careful of what she said to police.
"Do you want Mommy to go to jail?" she is heard saying on the videotape, which was recorded in an interrogation room at the Palm Beach County Sheriff's Office on the day her stepson was found dead.

Back To Top

IN COURT
The Palm Beach Post
March 18, 1994

WEST PALM BEACH - Jessica Schwarz, charged with second-degree murder and child abuse in the death of her 10-year-old stepson, lost her bid Thursday to bar prosecutors from using a videotape of her ordering her tearful daughter not to talk to investigators.

Back To Top

HRS WORKER CHALLENGES INDICTMENT
The Palm Beach Post
March 22, 1994
VAL ELLICOTT

A state health worker accused of threatening a woman who reported a now notorious child abuse case is demanding to know why grand jurors who initially refused to indict her later changed their minds.
Barbara Black, a caseworker for the Department of Health and Rehabilitative Services, is charged with extortion for allegedly vowing to take away Eileen Callahan's children if Callahan continued calling HRS to say that a neighbor's child was being abused.
The child, Andrew ``A.J.'' Schwarz, was later found dead. His stepmother, Jessica Schwarz, has been charged with second-degree murder.
Grand jurors who reviewed the extortion case against Black in November initially declined to indict her, but a month later, on Dec. 14, they reversed themselves, charging her with extortion by threat.
``The understanding I have is that no new evidence and no new witnesses were presented,'' Black's attorney, Doug Duncan, said last week. ``Nor was the grand jury asked to reconsider its decision.''
Duncan filed court papers demanding the unsealing of documents in which the jurors apparently explained their reversal. He said it's possible the indictment against Black could be dismissed if jurors acted out of emotion rather than a thoughtful review of the evidence.
Duncan's theory is that the jurors changed their minds because they were outraged that HRS officials had loudly cheered the initial decision not to indict Black as a complete vindication of the agency's methods in responding to child abuse complaints.
``This raises the inescapable possibility that the grand jury reacted vindictively to the comments of HRS officials, and in essence took the position, `we will show you, HRS,' by indicting the defendant,'' Duncan said in court papers. ``The notes reflecting why the grand jury did what they did must therefore be unsealed.''
A hearing on his demand is set for Wednesday.
In indicting Black, the grand jury blasted HRS as an agency whose workers are more worried about closing cases than protecting children.

Back To Top

IN COURT
The Palm Beach Post
April 13, 1994

WEST PALM BEACH
Jessica Schwarz, accused of second-degree murder and child abuse in the death of her 10-year-old stepson, violated her bond Sunday by leaving her home and talking to two witnesses in the case, a prosecutor said in court papers filed Monday. Prosecutor Scott Cupp, who said the witnesses and their children ``are upset and feel intimidated,'' is asking Circuit Judge Walter Colbath to revoke Schwarz's bond and send her to jail. A hearing on his request is set for today.

Back To Top

BAIL OF SLAYING SUSPECT REVOKED
JUDGE: ACCUSED KILLER OF STEPSON VIOLATED PRE-TRIAL RELEASE RULES
Sun-Sentinel
April 14, 1994
STEPHANIE SMITH Staff Writer

A judge on Wednesday revoked bail for a Lantana-area woman accused of killing her stepson after years of abuse that included making the 10-year-old boy eat his meals next to a cat litter box.
Jessica Schwarz, 39, violated conditions of her pre-trial release on $150,000 bail, Palm Beach Circuit Judge Walter Colbath ruled. Schwarz, who had been under house arrest, will now be jailed until her July 5 trial.
Assistant State Attorney Scott Cupp said that on Sunday, Schwarz stepped outside her door and intimidated her neighbors, who are state witnesses, with name calling and swearing.
"Not only has she had contact, but characteristic for Mrs. Schwarz, she was loud and abusive - screaming obscenities in front of a 3-year-old," Cupp told the judge.
Ann Steinhauer lives across the street from Schwarz in Indian Pines Estates. Steinhauer testified that her 3-year-old daughter was so frightened by the encounter that the child has slept with her and her husband since then.
On Sunday, Schwarz was outside her door, talking to her husband while he did yard work, Steinhauer testified. Steinhauer and her daughter were in their driveway when Schwarz yelled, "Look, David. There's f----mother of the year, f--Mother Theresa. You'd better unchain the kids in the back yard,'" Steinhauer said.
Then Schwarz saw Steinhauer's next-door neighbor, Ida Falk, and said, "Oh look, there comes nosey Ida," Steinhauer testified.
Both Steinhauer and Falk said they and their children are terrified of Schwarz.
Schwarz's husband. David, denied there was any encounter between his wife and neighbors. His wife popped her head outside their front door only to tell him about a funny movie she was watching that starred Tony Curtis, David Schwarz testified.
But Cupp told the judge that David Schwarz is not to be believed because he is an abused spouse who is intimidated enough by his wife to protect her.
Under cross-examination, David Schwarz admitted that sheriff's deputies were called to their house when his wife beat him, but denied she knocked out several of his teeth.
He lost only one tooth, David Schwarz testified.

Back To Top

A.J. SCHWARZ'S STEPMOTHER BACK IN JAIL FOR SHOUTING AT WITNESSES
The Palm Beach Post
April 14, 1994
VAL ELLICOTT

A woman awaiting trial on charges that she abused and killed her 10-year-old stepson was sent back to jail Wednesday after a judge found she had violated her bond.
Two of Jessica Schwarz's neighbors in Lake Worth testified that Schwarz, who had been ordered to remain inside her house and to refrain from talking to potential witnesses in the case against her, shouted sarcastic remarks at them Sunday while standing just outside her front door.
The neighbors - Ann Steinhauer and Ida Falk - gasped with relief and embraced after Circuit Judge Walter Colbath granted a request from prosecutor Scott Cupp to have Schwarz jailed.
The two women testified that Schwarz, 38, has become such an object of fear for their families that their two daughters have had trouble sleeping and one recently sought refuge inside a family's bathroom with a wooden bat.
``She's afraid Jessica is going to come over and hurt us,'' Falk told Colbath.
Steinhauer told Colbath that Schwarz shouted, ``There's (expletive) Mother of the Year. . . . There's (expletive) Mother Teresa,'' across the street at her on Sunday. Falk said Schwarz shouted, ``There's nosy Ida,'' at her.
Schwarz, represented by Rendell Brown, is charged with second-degree murder, four counts of aggravated child abuse, two counts of felony child abuse and one count of witness tampering in connection with the death of her stepson, Andrew ``A.J.'' Schwarz. An indictment says A.J. was forced to eat from a dog bowl, sit in his yard naked and trim the yard with scissors.

Back To Top

IN COURT
The Palm Beach Post
July 6, 1994

WEST PALM BEACH
Prosecutors added three new charges Tuesday to the child abuse allegations facing Jessica Schwarz, who is also accused of second-degree murder in the death of her 10-year-old stepson, Andrew, or ``A.J.'' Schwarz forced the child to run naked down the street, rubbed his face in sheets he had urinated on and mentally abused him by using obscenities to demean him, according to the three new allegations.

Back To Top